Simona Rosu
Business Operations Manager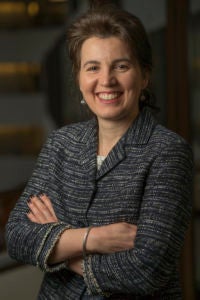 Simona Rosu serves as the Business Operations Manager for the Georgetown Law's Office of Executive and Continuing Legal Education. She oversees the financial, administrative, and operations management focusing on business process improvement, internal controls, cost reduction, and continuing legal education programs' scalability. 
Prior to joining OECLE, she has contributed to the Georgetown University's community in various roles since 2005. She moved to the Georgetown Law's campus from the Georgetown University's Office of Internal Audit where she provided audit and advisory services, performed investigations and project management, and supported the formulation of the internal audit plans and quality improvement activities.

Simona Rosu is an experienced collaborative leader and finance professional with a successful international history of working in the profit and non-profit industries – spanning Educational Services, Financial & Banking Services, and Capital Markets – driving change while delivering value. 
During her professional career, she has demonstrated effective management of wide-ranging diverse projects requiring complex platform integration, process improvement, and cross-functional collaboration. She consistently delivers outstanding results through a methodical approach, critical thinking and a keen eye for detail in order to solve complex business challenges and create operational efficiency. She is a trusted advisor to senior executives during change management challenges. She is able to understand client needs, provide logical solutions and create an efficient way forward by leveraging internal and external resources. Simona Rosu is known by her colleagues as fully accountable and reliable for successful outcomes. 

A Certified Fraud Examiner, Simona Rosu volunteered as Vice President of the Washington Metropolitan Chapter of the Association of Certified Fraud Examiners, offering support and promoting the professional development of its members primarily through training and networking programs within the area of fraud examination.

Her purpose drive vision, client mastery, and digital savviness have helped her in evolving her career to an empowered leader in designing and managing in a global business landscape.  
She holds an Executive MB from Georgetown University's McDonough School of Business, a B.S. in Statistics and Economic Forecasting from the University of Economic Studies, Romania, and is a Certified Fraud Examiner (CFE).
---
EDUCATION
Executive MBA, Georgetown University, McDonough School of Business, Washington DC
B.S., Statistics and Economic Forecasting, University of Economic Studies, Romania  
Certified Fraud Examiner (CFE)