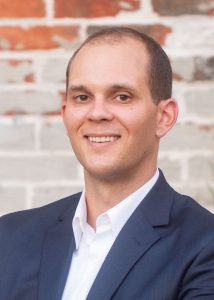 Eric is currently a 1L at Georgetown Law and a member of Cohort 4.
He grew up in the suburbs of Pittsburgh, PA and completed his undergraduate studies at the Schreyer Honors College of Penn State University. Eric graduated with honors and distinction in Secondary English and Communications Education in 2014. 
After graduating, Eric moved to Washington, D.C. and taught high school English in the Prince William County School District. Following his time in the classroom, he transitioned to the business world, first working as a sales manager at a digital, B2B media startup called Industry Dive. Eric then moved to a role managing a team of project managers at Gartner, the world's leading research and advisory firm.
Outside the Classroom
In his spare time, Eric is an avid cyclist and triathlete and has so far raced up to the half-IRONMAN distance. He is a huge football fan, particularly of his Penn State Nittany Lions and hometown Steelers. He also enjoys playing the trumpet, much to the chagrin of his neighbors.
Penn State University, Secondary English Education and Communications, 2014
Georgetown Law, JD expected, 2023