Increasing the Underrepresented in Law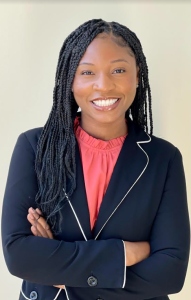 Nghia Jones is a 1L at Georgetown Law. She was selected to be in Cohort 5 of the Business Law Scholars Program. Nghia seeks to increase the number of underrepresented individuals in the legal field. Thus, she participates in programs that provide underrepresented communities with early exposure to the law. She speaks to high schoolers across the nation about law school as part of Georgetown Law's Early Outreach Initiative, and she serves as a debate coach as part of Legal Outreach.
Background
Nghia is a graduate of the University of North Carolina at Chapel Hill.
During undergrad, Nghia worked in various capacities within the Carolina organization. As a graphic designer for the School of Government, she prepared, drafted, and reviewed university branding, course design, and digital assets. Nghia also held progressive leadership positions within the Housing organization, including managing a staff of 20 housing personnel.
Prior to law school, Nghia interned at Fried, Frank, Harris, Shriver & Jacobson LLP as an SEO Law Fellow. She will return to Fried Frank in its DC office for half of her summer, and she will spend the remainder of her summer at Baker Botts LLP in its DC office.
Outside School
Nghia enjoys watching ESPN, baking, writing poetry, and mentoring.
University of North Carolina at Chapel Hill, B.A. in Political Science, 2019
Georgetown Law, JD expected, 2024