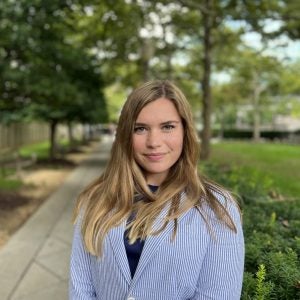 Linde Hoffman joined the Center for Innovations in Community Safety as a Project Coordinator in June 2022, where she supports the Active Bystandership for Law Enforcement (ABLE) Project. Linde assists with the implementation of ABLE and manages ongoing relationships with ABLE agencies.
Prior to joining the team at Georgetown, Linde worked in program development and re-entry case management at Kolbe House Jail Ministry in Chicago, teaching courses to the women's division in Cook County Jail and providing support to individuals re-entering their communities after experiencing incarceration. She built relationships with correctional officers serving as program staff in the jail and helped with the implementation of Kolbe House's strength-finding training based on the principles of positive psychology. Linde also served as a Legal Assistant at Jones Day, providing research and administrative support for Anti-Terrorism Act cases and for the DOJ pattern-or-practice investigation into the Minneapolis Police Department.
After graduating from college, Linde dedicated herself to a year of service as an Amate House Fellow, pledging to live out the values of service, community, social justice, stewardship, and faith. Linde received her B.A. from the University of Notre Dame, magna cum laude, also earning the Student Leadership Award for her service as Chief of Staff for Notre Dame Student Government and receiving a University nomination for the Rhodes Scholarship.