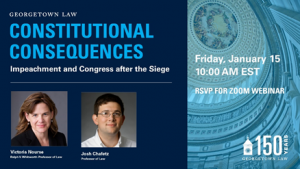 Professors Nourse and Chafetz will bring their deep expertise on Congress and the separation of powers
to reflect on the recent events on Capitol Hill, President Trump's second impeachment, and where Congress goes from here.
This event will also be live-streamed on Georgetown Law's Facebook page, http://www.facebook.com/georgetownlaw
This Webinar will be Closed Captioned.  Other Accommodation requests related to a disability should be sent to lawrsvp@georgetown.edu. A good-faith effort will be made to fulfill requests.
This is the first of several conversations where faculty will reflect on the Jan. 6 siege on the U.S. Capitol and discuss where our government and nation go from here.