Our work: Achieving health justice & healthy food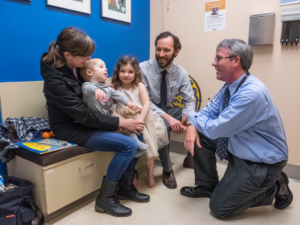 Health justice means access to the care, food and knowledge that people need to be healthy – to avoid preventable diseases and premature death. Most recently, the health team has worked to improve access to oral health care for children with special needs, improve food in schools and hospitals, reduce use of antibiotics in the food chain, and create strategies to operate HIV/AIDS services under the Affordable Care Act. Recent clients and collaborators including the following.
University-based programs
The health team works with two initiatives that unite Georgetown's law and medical faculties:
Non-profit organizations 
Center for Health Insurance Reform (CHIR), at Georgetown University's Health Policy Institute.
D.C. Central Kitchen.
Framework Convention Alliance (FCA), a coalition of international NGOs that support tobacco control legislation in countries around the world.
National Academy for State Health Policy (NASHP), an independent academy of state health policymakers working together to identify emerging issues, develop policy solutions, and improve state health policy and practice.
National Alliance of State and Territorial AIDS Directors (NASTAD), a membership organization of state and territorial AIDS directors that provides technical assistance and advocacy support related to HIV/AIDS and viral hepatitis.
School Food FOCUS (Transforming Food Options for Children in Urban Schools) and its regional initiatives, which include the National Procurement Initiative, the Upper Midwest Learning Lab (school districts of Chicago, Cleveland, Des Moines, Detroit Omaha, Minneapolis and Saint Paul) and the Southern Learning Lab (school districts of Houston, Nashville, and Orange County (FL)).
A Washington, D.C., coalition of non-profit organizations supporting implementation of the Good Food Purchasing Program in D.C. government and public schools.
Washington Sustainable Food &Farming Network (WSFFN).
Federal agencies
Health Care Dynamics International, a contractor for the U.S. government, in support of policy projects for the Centers for Medicare/Medicaid Services:  Center for Public Integrity (CPI) and the Office of Strategic Operations and Regulatory Affairs (OSORA).
Centers for Disease Control, Division of Nutrition, Physical Activity, and Obesity.
State and local governments, policy councils, and legislators
Baltimore Food Policy Task Force, along with the Johns Hopkins Center for a Livable Future.
District of Columbia's Food Policy Council.
District of Columbia Office of the State Superintendent of Education.
Individual legislators in Maryland, California, Connecticut.
Maryland Department of Health and Mental Hygiene.
Maryland Attorney General, Office of Consumer Protection.
National Conference of State Legislatures.
School Districts including Aldine (TX), Charleston (SC), Des Moines, Detroit, Grand Rapids, Gwinnett County (GA), Milwaukee, Nashville, Oakland, Orange County (FL), Omaha, San Diego, Prince William County (VA).
Washington State Department of Agriculture.
Access to care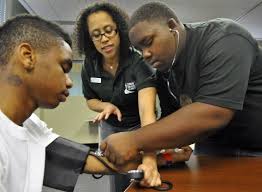 Access to oral health care – Barriers to oral health pose a significant health threat to low income individuals and families, with sometimes fatal consequences. The Harrison Institute collaborates with Georgetown University's Health Justice Alliance to develop and influence polices to eliminate barriers to oral health and help reduce health disparities. We have focused on polices that impair access to oral health services for low-income families, including children with special health care needs in Washington, D.C.
Regular oral health care is essential for all children, but most low-income families in Washington, DC, find few dentists within their ward, or even their side of town. Many dentists do not accept Medicaid patients. And for dentists who do accept Medicaid, the children they serve grow up and "age out" of eligibility. In addition to economic and transportation barriers, oral health is especially challenging for children with special health care needs because they are more likely to have special diets, take medications containing high levels of sugar, and have difficulty with oral hygiene. Our health team conducted a national scan of best practices for this population, including issues related to providers, the Medicaid program, and barriers to patient access including transportation and education. In combination with D.C.-specific data and talks with local experts, we have identified a number of best practices that are compatible with D.C.'s regulatory framework. To date, these include adding dental care to school-based clinics, expanding the scope of services that oral hygienists can perform, and extending continuity of care for adolescents. Results of the analysis are laying the foundation for advocacy in future years.
HIV/AIDS and health reform – State health departments play a vital role in providing access to testing and treatment for HIV/AIDS and viral hepatitis; they receive a majority of funding from federal and state governments.  The Affordable Care Act expands eligibility for Medicaid and private insurance to previously uninsured Americans including individuals living with HIV/AIDS. However, with more HIV/AIDS clients eligible for insurance, federal and state funding may be cut.  State health departments are assessing the capacity to bill third parties like Medicaid and private insurance for the services they provide, but they need to know whether state law limits their legal ability to do so.  Partnering with the National Alliance for State and Territorial AIDS Directors (NASTAD), we have provided an overview of five states and their laws related to state health department billing.  We plan on continuing our partnership with NASTAD. Recent work: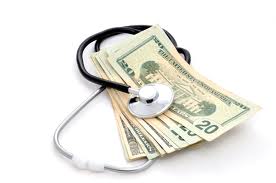 State role in reform of health insurance – While the Affordable Care Act (ACA) made significant reforms to health insurance, states are at the forefront of implementing these reforms. With wide discretion on certain policy matters, the approach to regulating insurance under the ACA can vary from state to state.  Understanding how and what actions states are taking is a critical step to inform federal and state policymakers of the changing insurance landscape. We have supported organizations like the Center on Health Insurance Reform (CHIR) in its efforts to monitor and analyze state implementation of the ACA.
Food Policy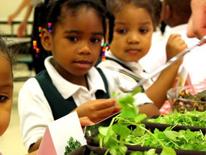 Food and nutrition – Obesity rates continue to rise, particularly in young children and adults in low-income areas, which do not have equal access to fresh fruits and vegetables in their communities and suffer higher rates of obesity and diabetes. From 2008–2018, we partnered with School Food FOCUS to support large school districts that want to purchase healthier, unprocessed local food. To do so, they must figure out how to innovate with their purchasing and comply with local, state, and federal procurement law.
In 2019, we advised the D.C. Central Kitchen on the contracting process for child and adult feeding programs. And in 2019–2020, we worked with the D.C. Office of the State Superintendent of Education to update procurement contracts and training for managers of child nutrition programs.
At the same time, school districts are working to increase their economies of scale of through cooperative purchasing and other contracting strategies. Recent projects include a collaboration between School Food Focus and Health Care Without Harm on partnerships between school districts and hospital systems. As of 2020, we have worked with 20 school districts and several hospitals and hospital systems. Recent work:
Food and sustainability – As consumers, governmental entities like school districts have the potential to change how food is produced.  For example, school districts are working with producers to purchase chicken that is raised with minimal use of antibiotics.  They are also exploring standards to promote environmental sustainability, including reduction of pesticides and other chemicals that are harmful to agricultural workers.  School districts that want to expand their food purchasing criteria to include sustainability must ensure they have the legal authority to do so under state law and federal conditions of funding for school meals. In 2018 and 2019, we have helped jurisdictions implement the Good Food Purchasing Program, a national framework created to increase the food system's production of nutritious, sustainable and regionally produced food that respects the rights of workers and promotes animal welfare.
Worker health and safety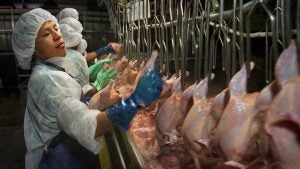 Poultry workers – Georgetown University awarded a Laudato Si' grant for the Harrison Institute and the Kalmanovitz Initiative to develop a purchasing code and a national working group of universities, all for the goal of securing worker rights among suppliers of food, apparel, and electronics.
Our work began in 2019 with a medical/legal analysis of health and safety risks encountered by workers in the university's food chain for poultry. In 2020, the work has expanded to comparative analysis of university purchasing codes and convening a multi-university working group with participation by unions and food-service contractors.