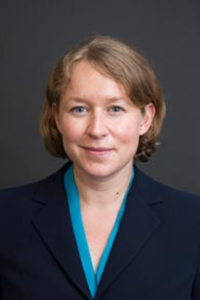 Professor of Law
Anne Fleming
B.A., Yale; J.D., Harvard; Ph.D., University of Pennsylvania
Areas of Expertise:
Phone
Assistant
Victoire Saperstein
Office
McDonough Hall 416
Professor Fleming's research interests include contract and commercial law, consumer finance, and American legal history, with a focus on the relationship between law and poverty. Her first book, City of Debtors: A Century of Fringe Finance (Harvard 2018), explores the growth and regulation of small-dollar lending institutions in United States over the twentieth century. In 2019, City of Debtors won the Ralph Gomory book prize from the Business History Conference and the best book award from the American College of Consumer Financial Services Lawyers. Fleming's other recent writing examines the history of "truth-in-lending" laws, the intersection of legal history and economic history, and the role of the doctrine of unconscionability in protecting poor consumers. She is currently at work on a project exploring the development of the American consumer bankruptcy system and the origins of chapter 13.
Fleming received her J.D., magna cum laude, from Harvard Law School, where she served as a board member of the Harvard Legal Aid Bureau. After law school, she worked as a law clerk for the Honorable Miriam Goldman Cedarbaum of the U.S. District Court for the Southern District of New York and the Honorable Marjorie O. Rendell of the U.S. Court of Appeals for the Third Circuit. She also practiced as a staff attorney for South Brooklyn Legal Services, representing low-income homeowners facing foreclosure. Before joining the Georgetown faculty, Fleming taught at Harvard Law School as a Climenko Fellow and Lecturer on Law. She holds a Ph.D. in History from the University of Pennsylvania and teaches courses on contracts, bankruptcy, secured transactions, and consumer finance.
Books
Anne Fleming,
City of Debtors: A Century of Fringe Finance
(Cambridge, Mass.: Harvard University Press 2018). [
BOOK
]
Contributions to Law Reviews and Other Scholarly Journals
Anne Fleming,
City of Debtors: Law, Loan Sharks, and the Shadow Economy of Urban Poverty, 1900–1970,
17 Enterprise & Soc'y 734-740 (2016)
.
Book Chapters & Collected Works