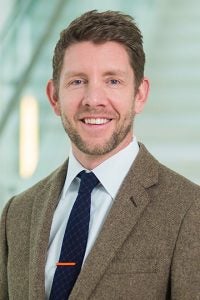 Visiting Professor of Law
Jonas Anderson
B.S., University of Utah; J.D., Harvard Law School
Areas of Expertise:
Jonas Anderson teaches and writes about patent law, intellectual property, trade secrets, and property. His work has appeared in the University of Pennsylvania Law Review, the Duke Law Journal, the Northwestern University Law Review, the Vanderbilt Law Review, and the Boston College Law Review, among others. His academic articles have been cited by a variety of sources, including the United States Supreme Court, the United States Court of Appeals for the Federal Circuit, and the New York Times.
Prior to entering academia, Professor Anderson clerked for Judge Alan D. Lourie of the U.S. Court of Appeals for the Federal Circuit. Before that, he also practiced patent litigation and intellectual property licensing at Latham & Watkins in Silicon Valley, California. Professor Anderson spent the 2014-2015 school year as a Thomas Alva Edison Visiting Scholar at the United States Patent & Trademark Office.
Professor Anderson is a graduate of the University of Utah (B.S., Physics; minor in Creative Writing) and Harvard Law School (J.D.).