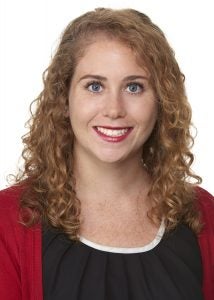 Nicole Ballister graduated with High Distinction from the University of Virginia with a double major in Philosophy and Linguistics. While at UVA, her joint interests led her to work on research in philosophy of language focusing on the evolution of the human language faculty. Nicole was awarded the department of philosophy's Outstanding Thesis award for her writing exploring metaphysical criteria of personal identity.
The daughter of a Naval officer, Nicole moved frequently while growing up, sparking her interest in different places and cultures. After graduating, Nicole spent two years in Madrid, Spain, working as an English teacher. Upon returning to the U.S. she worked as a Business Development Specialist in the D.C. office of international law firm Cleary Gottlieb, working closely on business strategy with partners whose legal practices include global antitrust and competition law, international trade and sanctions, and international financial regulatory law. She also had a lead role in helping to launch and promote the firm's foreign direct investment practice. While at Georgetown Law, Nicole hopes to continue to build on her knowledge of international business, regulatory policy, and cross-border transactions while exploring her academic interest in public international and comparative law.
In addition to being fluent in Spanish, Nicole is working on improving her French, and has studied Japanese and Korean. In her free time, she enjoys swing dancing, traveling, surfing, and dogs.