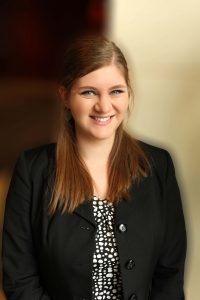 Amelia Dagen was born in California, but spent her childhood and adolescence in the Czech Republic. She returned to the United States to attend Biola University and graduated summa cum laude from the Crowell School of Business, achieving a B.S. in Business Administration with an emphasis in International Business. While there, she focused on the role of business in international development projects and the impact economic development has on women and other vulnerable populations. She completed an internship in the Netherlands as a Junior Business Consultant at TGS Development & Business Initiatives, where she researched and wrote business plans for socially-conscious start-up enterprises in Moldova, Ethiopia, and Central Asia. She also held several leadership roles on campus, including as a leading member of the annual Woven Women's Conference, which aims to bring together current students and alumni to discuss and explore women's contributions in the workplace.
After completing her undergraduate work, Amelia was selected to attend the American Enterprise Institute's annual Honors Program, Values & Capitalism, and gained hands-on experience in international business at a U.S. subsidiary of a Taiwanese technology company. Since arriving at Georgetown, Amelia has become involved in several student organizations (IRAP, Georgetown Youth Advocates, Women's Legal Alliance) and was chosen as a Vice President and Social Chair of the Detroit Legal Alliance.
In her free time, she has enjoyed tutoring teenagers in the foster system with Olive Crest, spending time with friends and family, singing, baking, and reading. She has also indulged her love of international foods and people through extensive travel, with some favorites being Israel, Turkey, India, and Croatia. Amelia speaks fluent English and Czech, conversational German, and hopes to gain proficiency in Spanish during her time at Georgetown.