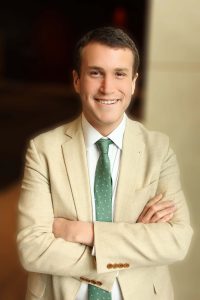 Andrew graduated from Brown University in 2006 with a degree in French Civilization, for which he wrote an honors thesis on silence in 20th-century French literature. He subsequently became a teacher. In 2009, Andrew joined the Peace Corps and spent six of the next ten years in Africa. During his time as a Peace Corps Volunteer, he worked on education, health, and community development projects in a rural village near the Zambezi River in northeastern Namibia.
Most recently, he worked in the Côte d'Ivoire office of the World Bank Group and the International Finance Corporation, where he focused on agribusiness projects in conflict-affected states in West Africa. He has also done consulting work with the African Development Bank; managed a honey production and distribution company in Juba, South Sudan; worked as a research and writing assistant for a leading expert in business and investment in Africa; and served as a jack- of-all-trades and the Director of Special Projects and Operations at a startup that focuses on helping emerging-market entrepreneurs develop visibility in key global markets.
In addition to his time in Africa, Andrew lived in France for five years, during which time, among other things, he became fluent in French. He holds a joint MALD / MBA degree from the Fletcher School and HEC-Paris. He enjoys learning new recipes, running, playing the guitar and hosting sing-alongs, and hearing others' stories.