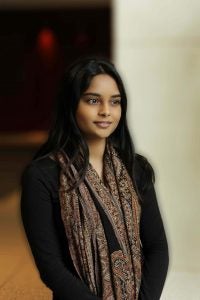 Bhaavya graduated from the University of California, Berkeley in 2018 with a B.A. in Political Science and Psychology. Most recently, she has been an AmeriCorps 9th grade Algebra teacher at a public school in her hometown, the Bronx. At Berkeley, she was a writer and editor for the Berkeley Political Review. Bhaavya wrote multiple articles discussing a range of topics, from former Mexican president Vicente Fox's legacy in the 21st century to legal attempts to erase mention of caste from California textbooks.
As a volunteer member and eventual chapter project coordinator of the nonprofit Asha for Education, she trained stewards on the context of the communities they were donating to, including rural Tamil Dalit communities and slum children at risk of sex trafficking in Varanasi. She organized the 2016 and 2017 Asha annual forums, "Intolerance in India: Caste & Religion" and "Demonetization", respectively. During her years with Asha, Bhaavya also co-created and co-taught the undergraduate DeCal class "Images of India: A Critical Exploration of the World's Largest Democracy".
At Georgetown Law, Bhaavya has used her focus on international development to transition to international economic work, with an emphasis on emerging markets and trends in transactional law. In addition to being one of the research heads on the GLS summer project "Overcoming Legal Barriers to Climate Change Solutions: The Interrelated Roles of Activists, International Organizations, Markets, and Central Banks," Bhaavya is the incoming Editor-in-Chief for Vol. 53 of the Georgetown Journal of International Law and a current student representative on an asylum case with the Center for Applied Legal Studies clinic.