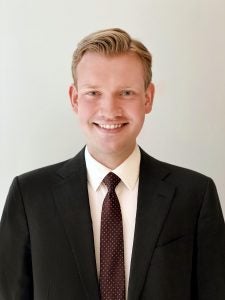 Dennis was born and raised in Germany and graduated from the University of Dresden in 2019, earning a B.A. in International Relations. He concentrated his studies on the intersection of public international law, finance, and foreign policy. In 2018, Dennis was a visiting student at New York University. Before coming to Georgetown Law, Dennis worked at the Permanent Mission of Liechtenstein to the United Nations in New York, a small but influential delegation that seeks to advance and enforce the rule of law through international organizations.
At the UN, Dennis was part of the team negotiating the Political Declaration adopted by the 64th Commission on the Status of Women (CSW). He also represented his delegation in diplomatic meetings on international law in the digital sphere, transitional justice, Financing for Development (FfD), as well as human trafficking and modern slavery. Additionally, Dennis contributed to a visit by the Foreign Minister and met with high-level UN officials, including Secretary-General Guterres.
During his prior studies, Dennis worked for a Member of the European Parliament in Brussels, where he concentrated on transatlantic relations and the EU Common Security and Defense Policy. He also volunteered for a refugee assistance organization and became a member of the German Council on Foreign Relations. In addition to his professional interests, Dennis enjoys running, reading, and indulging in diverse culinary cultures through travel, especially on extensive road trips. He speaks German, English, and French.