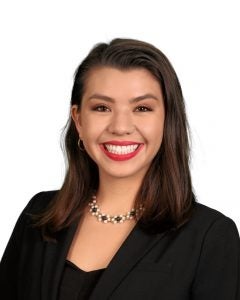 Eliza Lafferty graduated cum laude from Georgetown University in December 2020 with degrees in Art History and Government and a History Minor. She received departmental awards and honors for her Art History thesis: "From Misrepresentation to Public Memory: Tracing Filipinx American Visual Cultures and Curating the Vernacular Archive." Eliza has shared her research with global audiences at several conferences and in online publications.
Eliza has worked for local and federal governments on legislative issues—including for former Senator Kamala Harris, Mayor Todd Gloria, and most recently, Representative Mike Levin. Eliza also interned for The Phillips Collection, where she published research on ethical approaches to interpreting art by Black abstract painters. Additionally, Eliza developed programming for a historic house museum, Dumbarton House, where she implemented decolonial museum practices and organized a panel titled: "Centering Indigenous Voices in Historic House Museums."
She has been a Mount Vernon Leadership Fellow, Georgetown Women's Alliance Fellow, Lisa J. Raines Research Fellow, and Women's Congressional Staff Foundation Scholar. While an undergraduate, Eliza served as the Speaker of the Student Senate, Chairwoman of Students of Georgetown Inc. ("The Corp"), and the Student Representative to Georgetown University's Board of Directors.