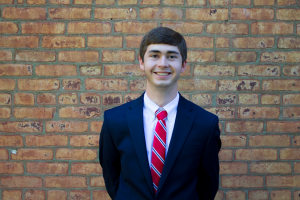 Evan Clark grew up in Owensboro, Kentucky and graduated summa cum laude from the University of Louisville in 2020 with triple majors in History, Spanish, and International Relations, as well as minors in Political Science and Linguistics. Evan's major in International Relations constituted an individualized program that encompassed his focus areas in Political Science and Linguistics, as well as Russian and Latin American and Latino Studies. At the University of Louisville, Evan wrote his senior honors thesis on applications of the political thought of the sixteenth-century Spaniards Francisco de Vitoria, Bartolomé de las Casas, and Juan Ginés de Sepúlveda to issues regarding sovereignty and human rights violations in the current Venezuelan crisis. Throughout his undergraduate study, he participated in the McConnell Scholars Program, a nonpartisan academic enrichment program for Kentucky students that focuses on cultivating civic leadership, dedicated scholarship, and community service. He had the opportunity to travel to the United Kingdom and China with his fellow McConnell Scholars, visiting locations such as Oxford and London in May 2018 and Shanghai, Xi'an, and Beijing in the summer of 2019.
Also, during his time at the University of Louisville, Evan studied abroad in Panama and in Cusco, Peru. Evan honed his Spanish skills during these programs and did so further when he served as a Fulbright English Teaching Assistant in Madrid, Spain, teaching English at the secondary school IES Gran Capitán. During his Fulbright program, Evan helped the students at the school complete their Global Scholars project to promote education about local consumption issues and other topics related to sustainability. For his Russian study, Evan participated in the STARTALK Russian Language and Culture Immersion Program at California State University, Northridge. He furthered his Russian studies during two consecutive summers through the Critical Language Scholarship (CLS) Virtual Institute for Russian, focusing on the locations of Nizhny Novgorod, Russia, and Bishkek, Kyrgyzstan.
Evan interned with the World Affairs Council of Kentucky and Southern Indiana, organizing and supervising the itineraries of Russian and Congolese visitors to Louisville. He engaged in the activities of the University of Louisville's United Nations Association for three years, serving as its president during his last year of undergraduate study. In this organization, Evan was chosen by his peers as an outstanding ambassador for representing Russia and France at Model United Nations Security Council competitions three years in a row. Evan also participated in the 2019 Global Engagement Summit in New York City, where he attended the UN Secretary-General's address to the summit. Evan's additional extracurricular programming included his participation in the 2018 Harvard Institute of Politics (IOP) National Campaign for Political and Civic Engagement Conference to promote bipartisanship and civil discourse. He was chosen as a Hertog Foundation Student Scholarship recipient in 2019 and traveled to Washington, D.C. Also, Evan served as the president of the University of Louisville's chapters of the Sigma Delta Pi National Collegiate Hispanic Honor Society, the Sigma Alpha Lambda Honors Society, and the Spanish Club. Community service and helping others is particularly important to Evan, and he enjoyed volunteering regularly with both Kentucky Refugee Ministries, a nonprofit organization that serves and provides educational networking to refugee communities in Louisville, and La Casita Center, a local nonprofit organization that serves the local Spanish-speaking community.
For his studies at Georgetown Law, Evan is highly interested in focusing on the national security and human rights applications of international law, particularly in relation to the Russian and Spanish-speaking worlds. He will be participating in a dual-degree program with the Johns Hopkins School of Advanced International Studies (SAIS) and its Master of Arts in International Relations (MAIR) program to increase the depth and well-roundedness of his understanding of international politics and law. Outside of his studies, Evan enjoys traveling; reading history, politics, science fiction, and fantasy; running for leisure; listening to instrumental music; studying world languages; and creative writing. Besides English, Evan speaks Spanish and Russian at an advanced level, as well as French at an intermediate level.