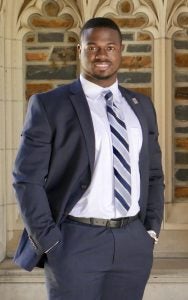 Jabril graduated cum laude from Duke University in 2021 with double majors in Public Policy Studies and African Studies. He received highest distinction from the African Studies department for his honor thesis, Financing Innovations: An Analysis of the Social Economy Amongst Kabre in Northern Togo and its Lessons for Capital Flow in Rural Western Africa. At Duke, Jabril studied in Ghana and Togo to observe the local economic principles that guide small businesses and local markets.
For the last two years, Jabril served as the project leader at the Microfinance Project for the Youth of Farendé (MJF) in the Kara Region of Togo. In his role, Jabril oversaw the loan application, fund distribution, and repayment processes while also using community feedback to make structural changes to the program which rewarded an increase in applicants, application acceptances, and loan repayment rates. While in Togo, Jabril also became proficient in French.
In addition, Jabril interned at the Global Policy Group which advises corporate and institutional clients in Asia and Europe on a wide range of United States public policy topics such as automotive emissions and safety regulations, climate change, energy and environmental policy, and international trade policy.