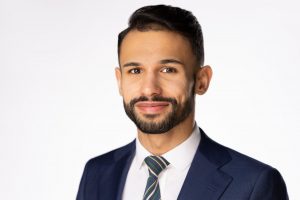 Jeremy graduated magna cum laude from Rutgers University in 2017 with a B.A. in Political Science and a minor in Middle Eastern Studies. He was born in New York City and raised in New Jersey. Jeremy spent much of his childhood traveling with his family to his parents' native Dominican Republic and Lebanon. His deep interests in public service and international law began during his experience in Lebanon during the 2006 Israel-Hezbollah War.
At Rutgers, Jeremy concentrated his studies on global affairs and history, completing courses that explored foreign governments and legal systems, geopolitical conflicts, and languages. In 2016, he spent a semester at Sciences Po, Paris, where his academics focused on French language and culture, the modern history of American conservatism, and literature by Niccolò Machiavelli. Outside of the classroom, Jeremy organized a student group in support of a major campaign for president and later interned at the campaign's Brooklyn headquarters, where he helped organize similar student groups around the country. He also spent a year as a public affairs trainee, producing research on a variety of public policy matters.
After completing his undergraduate studies, Jeremy joined the law firm Paul, Weiss. As a Research Assistant and then a Current Awareness Specialist at the firm, he produced high-level research and intelligence, and provided extensive support to a partner and former U.S. Cabinet official with client matters and public engagements, including testimony before Congress on issues of international law and national security. In addition to speaking Spanish, Jeremy is proficient in French and conversational Lebanese Arabic. He enjoys running, travel, reading science fiction and history novels, and cooking Mediterranean dishes.