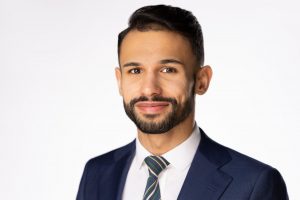 Jeremy is a third-year J.D. Candidate and Global Law Scholar at Georgetown Law. He is also a staff editor on the Georgetown Law Technology Review and a Senior Writing Fellow at the Georgetown Law Writing Center, taking an advanced legal composition seminar while working with faculty and students at varying skill levels on their legal writing
During the fall of his third year, Jeremy was a law clerk at the U.S. Department of Justice, serving in the Appellate Section of the Environmental and Natural Resources Division. Prior to that, he was a 2022 summer associate at the law firm Paul, Weiss in New York. Jeremy spent three years at the firm before law school as a research and business intelligence professional, producing top-level research and providing day-to-day support to a partner and former U.S. Cabinet official with client matters and public engagements, including testimony before Congress and media appearances on issues of international law and national security.
During his second year of law school, Jeremy served as a Legal Research and Writing Fellow, taking an advanced legal writing seminar while collaborating with first-year law students on their legal writing. During the summer after his first year, he completed the U.S. Securities and Exchange Commission's Student Honors Legal Program, serving as a summer law clerk in the Division of Enforcement.
Jeremy graduated magna cum laude from Rutgers University in 2017 with a B.A. in Political Science and a minor in Middle Eastern Studies. In 2016, he spent a semester at Sciences Po, Paris. Outside of the classroom, he organized a student group on campus in support of a major campaign for president; Jeremy later interned at the campaign's Brooklyn headquarters, where he helped build and organize similar student groups at universities around the country. He also spent a year as a public affairs trainee, producing research on a variety of public policy matters.
Jeremy was born in New York City and raised there and in New Jersey. In addition to speaking Spanish, Jeremy is proficient in French and conversational Lebanese Arabic. He enjoys running, traveling, reading science fiction and history novels, and cooking Mediterranean food.