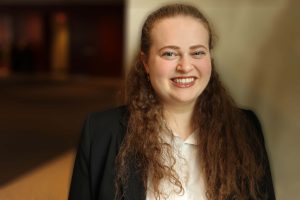 Kaylee grew up in the Boston area and went to Northeastern for her B.A. in International Affairs. As someone who at age 18 had never left the U.S. for more than a few days, she started exploring the world just after her freshman year, participating in a month-long study abroad program in Nanjing, China. She continued her experiences abroad during her junior year in Cape Town, South Africa, doing a six-month internship teaching and assisting the director at an English school for refugees.
After graduation, she moved to China and continued teaching, this time with high school students in Shenzhen who aimed to attend American colleges. She next moved to Hong Kong where she began working at a local human resources magazine. She interviewed leaders from both local and international organizations, writing articles on anything from trends in HR technology to creating more inclusive work environments for transgender employees. She also continued tutoring a range of students from all ages, from as young as three to as old as 60, including conducting corporate training sessions and working with Hong Kong police officers on their spoken English. A
fter two years, she headed back to the Mainland and spent a semester in Hangzhou at an international, intensive Mandarin Chinese language program at Zhejiang University. She is finally satisfied with her Chinese level after having studied it on and off for about eight years (though realistically Universidad Nebrija and will never be done learning!). Since returning to America she's been working for an association management company and waiting impatiently to start law school.