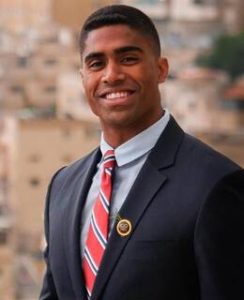 Kilian Liptrot is a Captain in the United States Army. He was born in Werl, Germany, and spent the majority of his formative years overseas, graduating from Patch American High School in Stuttgart, Germany before studying at the University of Pittsburgh. Kilian earned his Bachelor's Degree from the Honors College in Politics & Philosophy, minoring in German and receiving his Certification in Western European Studies. His three-year capstone project proposal was awarded multiple research grants, enabling Kilian to conduct field-study research on urban gentrification in Harlem, New York; Brixton, London; and Sheung Wan, Hong Kong. Outside of the classroom, Kilian was an active member of campus as a varsity athlete, Army ROTC Cadet, and Academic Mentor.
As a student, Kilian represented his University in six countries overseas, including an internship with the North Atlantic Treaty Organization (NATO) in Oberammergau, Germany, as well as academic work in The Czech Republic and The People's Republic of China. His undergraduate experience culminated in being named to the University of Pittsburgh Division-1 Scholar Athlete All-Academic Team, earning membership in the Lambda Pi Eta National Honor Society, and Commissioning as a Military Intelligence Officer in the United States Army.
Upon commissioning, Kilian worked at the United States European Command HQ Judge Advocate Office in Stuttgart, Germany. His follow-on military assignments include a combat deployment to the Middle East with Special Operations Command as an Intelligence Team Leader, and service in the Republic of Korea under the 1st Infantry Division as an Unmanned Aircraft System (UAS) Platoon Leader. Upon graduating law school, Kilian will continue to serve in the U.S. Army as a Judge Advocate General (JAG) Corps Officer. Kilian speaks and reads German, and looks forward to expanding his interest in national security and international law during his time at Georgetown.