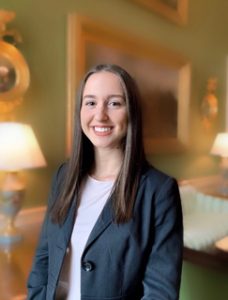 Mariaeugenia graduated summa cum laude from the Florida International University Honors College in 2020, earning a B.A. in both Political Science and International Relations, while also achieving certificates in Pre-Law Skills & Professional Values, and Latin American & Caribbean Studies. During her undergraduate career, she developed a regional focus on Latin America, specifically Central America.
Although born and raised in Miami, Florida, Mariaeugenia's Nicaraguan heritage sparked her regional interest. She is also committed to advancing the Hispanic community within the United States. She was designated a Hispanic Scholarship Fund Scholar in 2017, and selected as a fall 2019 Congressional Hispanic Leadership Institute (CHLI) Global Leader. During her undergraduate studies, she interned at Ford Motor Company Fund where she assisted with philanthropic initiatives targeting Hispanic communities in the United States and abroad. She also interned twice at the U.S. House of Representatives, at both a D.C. office and district office.
Most recently, Mariaeugenia completed an internship at Running Start, where she assisted with their high school program that encourages young women to run for office. More of her undergraduate involvements include serving as a Student Ambassador for her university, vice-president of operations of the FIU Student Ambassador Program, member of the Phi Alpha Delta Pre-Law Fraternity, and member of the Epsilon of Florida Chapter of the Phi Beta Kappa Society. Her international experience includes an education-abroad trip to study the geopolitics of Israel, and participation in the Una Chapman Cox-State Department Diplomacy Seminar that educates students on diplomatic and foreign service careers. She is a native Spanish speaker and is currently learning Italian. In her free time, Mariaeugenia enjoys reading, baking, painting and playing piano.