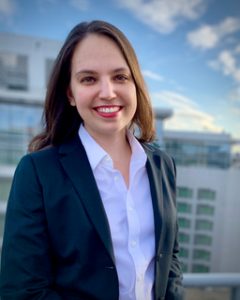 As a first generation Turkish-American, Mine's upbringing straddled Turkey and the United States. She received her bachelor's degree in law at Koç University Law School in Istanbul with a minor in international relations. Her interest in public international law flourished there when she became an International Human Rights Law Reporter at the Koç University Center for Global Public Law, reporting on and analyzing cases before UN treaty bodies for the Oxford Reports on International Law, an online database of the Oxford University Press. During her undergraduate studies, she also interned at UNICEF and the Turkish Constitutional Court, and conducted research for the EU law department at Koç. After graduation, she completed her attorney traineeship at White & Case LLP's former affiliate law firm in Ankara, and was admitted to the Istanbul Bar. While at White & Case, Mine worked on project finance and cross-border transactions.
She later earned an LL.M. at the University of Michigan Law School, focusing her coursework and activities on constitutional theory and the jurisprudence of international courts and tribunals with respect to freedom of speech. Her LL.M. led her to work as a legal caseworker at the Advice for Individual Rights in Europe Centre, a London-based NGO that specializes in European human rights law. There, she assisted in the Centre's strategic litigation before the European Court of Human Rights, the European Court of Justice, and various British courts and tribunals.
Most recently, Mine had the opportunity to work for two associate judges at the Superior Court of the District of Columbia, first as a judicial intern to the Honorable Steven M. Wellner and later as a law clerk to the Honorable Steven N. Berk. At Georgetown Law, Mine looks forward to deepening her skills in international litigation while continuing her education in the American legal system and delving into international policy-making at the intersection of human rights, communications law, and international transactions. In addition to English, Mine is a native Turkish speaker and is conversant in Spanish and French. In her free time, she enjoys hiking, reading feminist literature, and listening to podcasts about politics.