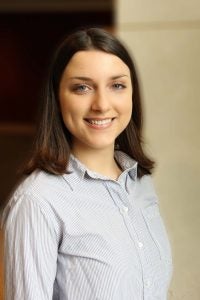 Born and raised in New Jersey, Sara crossed the country to study at the University of California, Berkeley, where in 2019 she graduated with High Distinction in the College of Natural Resources and Honors in the molecular environmental biology major, concentrating in environment and human health and minoring in French. As an undergraduate, she conducted research with the USDA at the Plant Gene Expression Center in Albany, California, as well as the French National Institute of Health and Medical Research in Paris. She further expanded her biological ken by teaching an introductory biology lab course and working in the university herbarium.
Throughout college, she cultivated her community-mindedness and passion for public service as an Undergraduate Fellow of Bowles Hall Residential College and as a peer health educator in the Health Worker Program. She enjoyed the opportunity to present her honors thesis examining consumer food waste behaviors and potential interventions at EarthX, the world's largest environmental conference. While completing her thesis, she won first place in the UC Berkeley Undergraduate Conference on the European Union for her paper comparing food waste reduction developments in the EU and US. Sara strives to take environmental health as seriously as her own as an avid yogi, meditator, and hiker.
Her affinity for the study of life is rivaled only by her appreciation of language and culture, which she nourished in her four years as the co-founder and president of the French club, Le cercle français, and as the assistant director of the European Union Student Ambassador Group at Berkeley. Sara is fluent in French and speaks conversational Portuguese. At Georgetown, Sara is involved in the Public Interest Fellows program, Environmental Law Society, Green Campus Alliance, and Sustainability Committee. She is excited to further develop her interest in the intersection of globalization, environmentalism, and law as a Global Law Scholar in preparation for a career in international climate change policy and litigation.