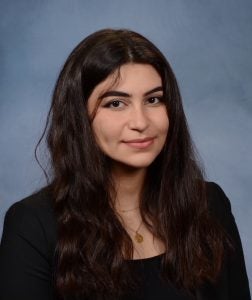 Sarah Abdelbaki graduated Phi Beta Kappa from the University of Michigan Ann Arbor in 2022. She received a B.A. in Economics and International Studies with a focus in political economy and development as well as a French language minor. She was raised in Columbus, Ohio, but spent much of her childhood visiting family in Lebanon.
In college, Sarah was the Co-President and Editor in Chief of a foreign policy think tank where she published her own research on evolving state relations in the Middle East. In 2019, she published similar research in the Yale Review of International Studies and received University recognition for her contribution to a Comparative Political Parties project under a professor of political science. Sarah spent a summer as a research assistant at the UN Economic and Social Commission for Western Asia where she contributed to a policy proposal on increasing efficiency of international aid to Gaza and the West Bank. Before graduating, she completed a term paper for her thesis course in economics assessing the impact of Free Trade Agreements with the EU on economic development in the Middle East.
Sarah spent multiple summers at an immigration law firm and a refugee resettlement agency in her hometown working in outreach, translation, legal, and other positions. She is proficient in French and multiple dialects of Arabic. In her free time, Sarah enjoys playing the piano, traveling, and watching movies.