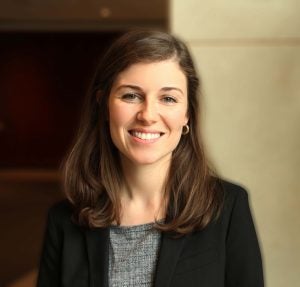 Sarah Morsheimer graduated Magna Cum Laude from Loyola University of Chicago in 2016 with degrees in International Studies and English and a concentration in Peace Studies. While at Loyola, she became a member of the Jesuit Honors Society, Alpha Sigma Nu, International Studies Honors Society, Sigma Iota Rho, and English Honors Society, Sigma Tau Delta. With a passion for human rights issues, she interned for Art Works Projects for Human Rights where she researched and prepared exhibits on transitional justice in post-conflict societies. These exhibits were shown in multiple countries around the world.
For three years, she worked with refugees in the Chicago area as a mentor, tutor, and fundraiser for local refugee resettlement agencies, sparking her interest in forced migration and immigration law. From high school throughout college, she volunteered with the Mortel High Hopes for Haiti Foundation in Saint Marc, Haiti, to implement interactive enrichment programs for students from K-12, and to advocate for the importance of education.
Following graduation, she worked as a Public Affairs Section Intern with the UN Assistance to the Khmer Rouge Trials in Phnom Penh, Cambodia. There, she drafted monthly reports on the progress of the Court and observed public awareness and attitudes towards the Court through public outreach forums, interviews, and surveys throughout the provinces of Cambodia. After, she worked as an International Communications Assistant with the Jesuit Refugee Service (JRS) in Rome, Italy. With JRS, she traveled to Malta, South Africa, and Malawi to monitor the organization's various projects in urban centers and refugee camps and produce content to advocate for the rights of refugees and migrants. She is proficient in French and refined her language skills through an intensive language program in Paris, France. At Georgetown Law, she hopes to pursue her interests in international human rights law, forced migration, conflict, and transitional justice. During her free time, she enjoys cooking, yoga, and exploring new places and cultures through their cuisines.