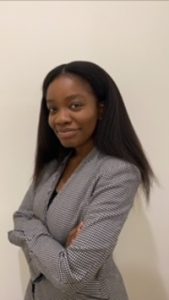 Tracy was born and raised in Accra, Ghana. She came to the United States in 2012 for her undergraduate studies at Augustana University in South Dakota, where she majored in Sociology with minors in Economics, Communications, and Government. She graduated magna cum laude, with Alpha Kappa Delta Sociology honors and as a member of the Civitas Honors program in 2016. Following her undergraduate studies, Tracy interned with the American Civil Liberties Union in South Dakota working primarily for their poverty and criminal justice reform projects. She also worked as a legal assistant at Myers Billion, LLP a private law firm specializing in civil and criminal litigation.
In 2017, she began her master's studies at Georgetown University's School of Foreign Service with a concentration in Global Business and Finance. She spent the first summer of her master's program working with Swedish multinational, Epiroc in Ghana to develop the company's domestic social responsibility policy. Over the course of her master's program, she also worked at Amnesty International, conducting research on gun violence in the United States and at the International Finance Corporation (IFC)'s SME Finance forum, compiling and analyzing data on micro, small, and medium enterprises (MSMEs) globally.
She graduated from her master's with a distinction in her oral exam, academic honors and with an international business diplomacy certificate. After graduating, Tracy worked with Albright Stonebridge Group's Operations and Africa Practice teams on projects related to fintech, gender rights, cyberlaw, and agriculture. She enjoys cooking and reading and one of her favorite pastimes are Korean TV dramas. She is interested in international human rights, women's rights, international business law, and technology law.