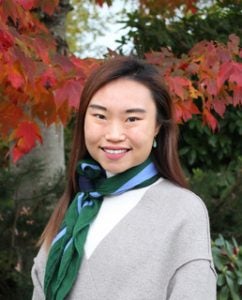 Yang was born and raised in Beijing, China and moved to Vancouver, Canada when she was thirteen. She graduated from Brown University in 2018 with a concentration in East Asian History. At Brown, Yang was President of Strait Talk, a symposium promoting peaceful dialogue between youth from Mainland China, Taiwan, and the US. She helped organize three symposiums at Brown and one at the National Taiwan University. She was a Brown in Washington fellow and interned in the Senate Health, Education, Labor & Pensions Committee. She was also Music Director of the Brown Madrigal Singers.
Yang's interest in international affairs led her to intern at the Embassy of Canada in DC and the Brookings-Tsinghua Institute in Beijing as a Research Analyst. After graduation from Brown, Yang pursued a Double-MSc degree in International Relations and International History at Peking University and the London School of Economics. Her Master thesis studies the institution of extraterritoriality in the Shanghai International Settlements in the Late-Qing era.
At Georgetown Law, Yang seeks to build on her transnational background and interest in international policy. Yang is fluent in Mandarin Chinese and English and proficient in French. A classically trained violinist since age 5 and an avid singer, Yang often performs with her local chamber orchestra and choir. In her free time, she enjoys long-distance running, cooking Chinese food, reading good fiction, and discovering restaurants and pubs with friends.