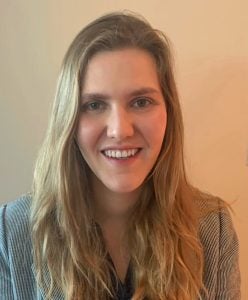 Olivia Engling is the Program Coordinator and Office Manager at the Human Rights Institute.
Previously as the Communications and Operations Manager at Jubilee USA Network, a nonprofit organization focused on building a more just economy, she managed a team of 7 interns to coordinate communications, events, and finances. She fostered key organizational partnerships and spoke at a rally for international COVID-19 vaccine distribution. Ms. Engling served as Student Director of Community Kitchen, an initiative that served 1,100 meals annually by rescuing excess food on campus, and has created and implemented communications campaigns on the local, state, and national level, including as Outreach Liaison at Easter Seals Wisconsin. She was a founding member of a social venture start-up focused on COVID-19 safety protocols, and has served on a voter education coalition.
Ms. Engling conducted research on college food insecurity and the role of institutional policies in marginalizing low-income students, making recommendations for a more inclusive community. In her free time, she is an active member of the Rotaract Club and Phi Beta Kappa, has participated in a documentary team focused on under-told social justice issues, and is a trained restorative justice facilitator. She studied Psychology and Peace Studies, with a concentration in Sustainable Social Change, graduating egregia cum laude.