No Choice: Attacks on Health as a Driver of Forced Displacement in Syria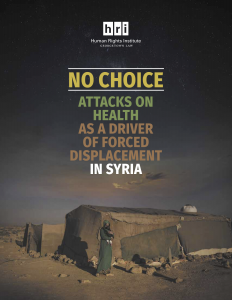 A new report from Georgetown Law's Human Rights Institute documents the connection between the Syrian Government's attacks on healthcare and forced displacement of millions of Syrians. The report argues that these attacks created a coercive environment, leaving Syrians with no choice but to flee, and constituted the crime against humanity of deportation.
Students in Georgetown Law's Human Rights Fact-Finding Practicum conducted interviews over the course of the 2020-2021 academic year with individuals who had been displaced as a result of attacks on healthcare and generalized violence, as well as with legal and subject-matter experts on the conflict in Syria.
ATTACKS ON HEALTHCARE
The report finds that pro-government forces engaged in patterns of violent actions aimed at denying healthcare services to segments of the populations perceived to be opposed to the Syrian government. These attacks decimated services, leaving health systems incapable of meeting the civilian population's needs.
The report concludes that the Syrian government's attacks on healthcare amount to the crime against humanity of deportation. The Government used attacks on healthcare to create intolerable living conditions and intimidate civilians, an atmosphere that amounts to a coercive environment under international law in which civilians had no choice but to flee.
HOLDING THE SYRIAN GOVERNMENT ACCOUNTABLE
The report outlines pathways to accountability, including analyzing the potential for the Prosecutor of the International Criminal Court to investigate the crime against humanity of deportation.
As the world marks the ten-year anniversary since the beginning of the Syrian conflict, this report provides a critical analysis connecting attacks on healthcare with displacement that aims to contribute to the discussion on potential avenues for accountability.
The report is authored by an international team of J.D. students: Aysha A. Chowdhry, Dennis Blumenfeld, Elizabeth Fray, Jacob Demree, Hibah Siddiqui, and Juliana Lord. The research was supervised by Scott Gilmore, adjunct professor of law, and Melissa Stewart, the Dash-Muse Teaching Fellow at the Human Rights Institute.