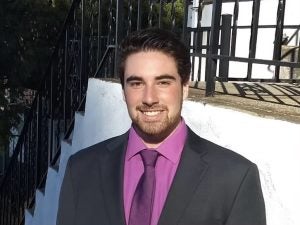 Aaron is a 3L from Long Island, New York. His interests lie in cross border transactions, fintech, and sovereign debt restructuring.  
Prior to law school, Aaron attended Lehigh University as a Political Science major. While there, he won the University's Williams Writing Prize for Business and Economics for his article on South African Socioeconomic Rights. The article was subsequently published in Perspectives on Business and Economics.  
At Georgetown, Aaron is the Managing Vice President of the Jewish Law Students Association; in that role, he facilitates JLSA's event programming and coordinates the activities of the Board. He is also the Senior Articles Editor of the Georgetown Law Technology Review. After graduation, Aaron is returning to New York to work in the Corporate & Financial Services department of an international law firm.  
In his free time, Aaron enjoys painting, woodworking, and reading classic sci-fi novels.