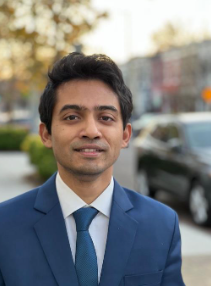 Abhik is an LL.M. candidate in International Business and Economic Law at Georgetown Law. He is qualified to practice law in India, and obtained his first law degree from the West Bengal National University of Juridical Sciences in 2017.
Before enrolling at Georgetown, he worked for four years as an attorney in Shardul Amarchand Mangaldas' New Delhi office. During this period, he gained exposure to different practice areas –projects, commercial litigation, domestic and international arbitration, and white-collar defense. Through the LL.M. program, he wishes to gain a global perspective on various business law issues, that he has encountered previously while working in India.
While in law school in India, he was enthusiastic about representing his university at various moot-court competitions, parliamentary debates and soccer tournaments. In addition, he engaged in pro-bono work, providing legal aid to victims of sexual harassment and human-trafficking in Kolkata.
These days, he invests his spare time in soccer, tabla (a percussion instrument), exploring DC and cooking. Abhik also has a passion for teaching –he had a teaching role with two NGOs in Kolkata and was a teaching assistant for torts law during his undergraduate years. While he wishes to continue with his private practice, he retains a desire to teach law on the side, at some point in the future.