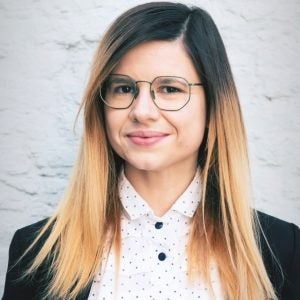 Daniela-Olivia Ghicajanu is a 2021-2022 Fellow in the Institute of International Economic Law and an LL.M student at Georgetown University Law Centre. She also graduated with an Advanced LL.M in European Legal Studies at the College of Europe, Bruges, Belgium. She completed her undergraduate legal studies in Romania and France.
Daniela has considerable professional and academic experience in European Economic Law and Policy. She was part of the Legal Services of two European Institutions, namely the European Commission and the European Securities and Markets Authority. As part of the European Institutions, she was involved in litigation, regulatory investigations, and Investment Law arbitration proceedings. Additionally, she worked as a Senior Consultant in Financial Service Policy and Regulatory in Brussels and she was part of the tax litigation team of a Romanian Big4.
Daniela was a keynote speaker at the International Conference "The Ubiquity of Law in Cyberspace" (2020), where she discussed the European Union's legislative proposal to regulate crypto-assets. And since 2021, she has been a grading judge for Jessup International Moot Court Competition. As part of the IIEL, she aims to contribute to the Institute's work in International Investment Law and Dispute Settlement, Trade, and Financial Services. 
Daniela is part of the 2022 VIS International Arbitration Moot Court team, representing Georgetown Law Centre at the Vienna rounds in April 2022.