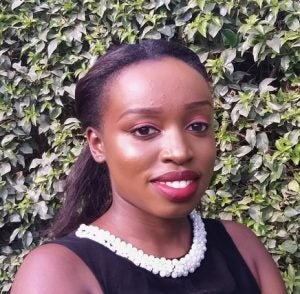 Gloria Ngumi, from Nairobi, Kenya, is an LL.M student at Georgetown University Law Center. She is a Leadership and Advocacy for Women in Africa (LAWA) fellow. Gloria earned her Bachelor of Laws degree from the University of Nairobi and her Postgraduate Diploma in Law from the Kenya School of Law. After law school, she worked with the Kenya National Commission on Human Rights and within the private sector to alleviate socio-economic and human rights challenges in her home country. Her work and research revolved around business and human rights and public international law.
Gloria is also very passionate about using social entrepreneurship as an avenue to promote the protection of human rights. Gloria has worked with startups to implement creative solutions targeting vulnerable populations underserved by public administration. Her most recent role involved working with an AgTech startup in rural Kenya to fix broken food supply chains and promote access to affordable and nutritious food.
Gloria's current interests lie in the intersection of international trade law and gender.