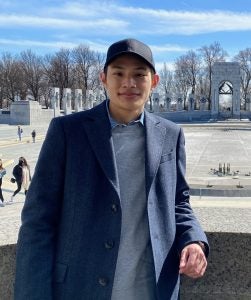 Jayson Shan is currently pursuing a double master's degree with Paris School of International Affairs, Sciences Po and Georgetown University Law Center.
 He is a big fan of law, international affairs, and public policy; his research interests primarily lie in EU-US-China relations in the fields of national security, defense and weapons, and international trade.
This past summer, Jayson worked as a program assistant with the US-Asia Institute, where he facilitated exchanges between American and Chinese representatives on the US's and China's political, economic, and legal systems through the 1.5-track dialogue. 
Prior to law school, he served as a political, press and information trainee with the European External Action Service, where he analyzed military and political developments in the Indo-Pacific region and drafted reports on the EU's common foreign and security policy.
At Georgetown, Jayson is a member of the National Security Law Society and a representative of the LL.M. Committee. In his spare time, he enjoys traveling, going to the movies, and eating his way through Washington, D.C.