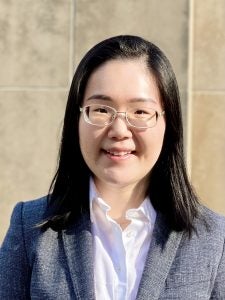 Joan Lim is an International Legal Studies LL.M. candidate at Georgetown Law, where she is an Institute of International Economic Law Fellow and an Articles Advisor at the Georgetown Journal of International Law.
Joan previously served as senior legal counsel and prosecutor with the Singapore Food Agency. She has experience advising the Singapore government on multilateral and bilateral legal instruments and agreements concerning agriculture, food safety, agri-technology, and trade, and represented Singapore in forums at the Association of Southeast Asian Nations and the United Nations Food and Agriculture Organization.
Having grown up in Singapore at the confluence of East and West, Joan takes a particular interest in U.S.-China trade relations and its interactions with the rules-based multilateral trading systemin the global economic order. She would like to work on law and policy issues at the intersection of international trade, intellectual property, technology, and sustainable development.
Joan holds an LL.B. (First Class Honors) from Birmingham City University and a Masters in Intellectual Property and Innovation Management from the Singapore University of Social Sciences, which she pursued on a Singapore Food Agency Postgraduate Scholarship. She speaks fluent Mandarin and is conversant in German. Outside of her work and academic pursuits, she enjoys traveling, good food, and spending time with her family and gerbil.