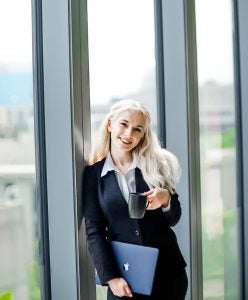 Kate (Ekaterina) Ursul is originally from Russia, and she is currently enrolled in an LL.M. degree in International Business and Economic Law (IBEL). 
Kate is a noted advisor of the Georgetown Journal of International Law, a secretary at Georgetown International Arbitration Society, and a member of LL.M. Committee. 
Kate has been involved in multiple arbitration projects prior to her post graduate degree studies. In 2019, she participated in Foreign Direct Investment International Arbitration Moot. Kate also has completed externships and work in arbitration teams of big law firms located in Washington, D.C. 
Prior to this, Kate had an internship in the Law Library of Congress located in Washington, D.C.  where she drafted analysis of the post-Soviet states' laws. During this internship, she cultivated her interest in corporate, economic, and international arbitration law. 
Kate volunteered for two years in a Northern Virginia nonprofit legal organization, Just Neighbors, assisting in preparing USCIS forms for DACA applicants and domestic violence victims. She was honored with Volunteer of the Month within the first month of tenure.
In Russia, Kate's legal work included real estate transactions and insurance claims. Kate represented RESO Guaranty insurance company as in-house legal counsel in national courts, representing the company in around 7 cases in a day.
In her spare time, Kate likes running races, traveling in diverse cities and photography.