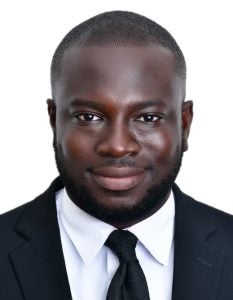 Kobby is an LLM Candidate at Georgetown University's Law Center, pursuing an LLM in General Studies with a certificate in WTO and International Trade Law. He joins the IIEL with a long-standing interest in Trade law, and as a fellow, he seeks to build upon his knowledge and network in the International Economic Law space.
Born and raised in Kumasi, a city in the Ashanti Region of Ghana. Kobby Obtained his LLB from the Kwame Nkrumah University of Science and Technology(KNUST). At KNUST, he was the head of the local Chapter of the National Union of Ghana Students (NUGS). He also served in different roles in several student organizations in Ghana.
He later enrolled at the Ghana School of Law to train and qualify as a Barrister and Solicitor of the Supreme Court of Ghana. At Ghana School of law, he was elected president of the Ghana School of Law Students' Representative Council, where he successfully championed several reforms in Legal Education. During this period, he worked closely with Justice Samuel Marful-Sau, a former Justice of the Supreme Court of Ghana as his Judicial Clerk. After being called to the bar, he joined Bentsi-Enchill, Letsa & Ankomah as a trainee solicitor. He is also a member of the Ghana Bar Association and serves on the Publicity Committee in Charge of Social Media.
He is an articles advisor at the Georgetown Journal of International Law. Kobby enjoys music, podcasts, debating, playing tennis and watching soccer.
Feel free to connect with him via LinkedIn at www.linkedin.com/in/emmanuelamoah18.