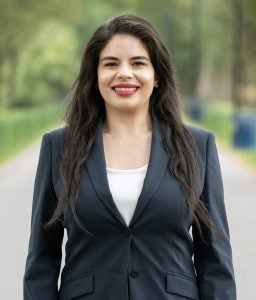 Maria is a litigation attorney at a global law firm and a student in the Securities and Financial Regulation LL.M. program at Georgetown Law, where she also received her J.D. in 2015.
She has previously worked at the Criminal Division of the U.S. Department of Justice, where she handled a variety of complex, multi jurisdictional cases involving securities and financial fraud.
She is the Chair of the Diversity Committee for the Georgetown Journal of International Law, where she co-authored a piece entitled, The Transnational Reach of U.S. Securities Laws –The Extraterritorial Application of 18 U.S.C. § 1348.
She has also served as a Research Assistant for the Georgetown Law Journal's Annual Review of Criminal Procedure and as a Teaching Fellow for the course, White Collar Criminal Practice: International Scandal Investigations.
She has broad interests in financial regulation, financial technology, and economic law and policy.