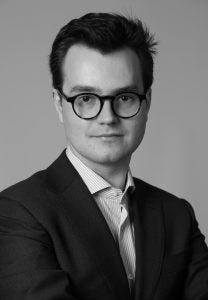 Maxime is an International Business and Economic Law LL.M candidate and a fellow at the Institute of International Economic Law at Georgetown University Law Center, where he is also the Vice-President of the Anti-Corruption & Anti-Money Laundering Law Student Association, an Articles Advisor for the Georgetown Journal of International Law, and a participant in Willem C. Vis International Commercial Arbitration Moot competition. His work focuses primarily on the intersection between international affairs, economics, and international law. Accordingly, his research interests lie specifically in international investment law, international trade, extraterritorial sanctions, and anti-corruption initiatives.
Maxime holds an LL.B. (2019), a BB.A. (eq.) (2019), and a master's degree (J.D. eq.) in international law from Sorbonne School of Law (2020), where he graduated summa cum laude and top of his class. He is currently enrolled as a dual-degree student at Georgetown Law with Sciences Po's Paris School of International Affairs, leading to a Master of International Affairs in International Economic Policy with a specialization in Diplomacy (2022). He pursued his interest in research by being a Graduate Certificate of Research student at the Institute of Higher International Studies (2021), where he wrote a thesis on the links between reparation and the legality of international expropriation in international investment arbitration. He also followed the Winter Courses on International Law at The Hague Academy of International Law (2021).
Alongside his academic experiences, Maxime has held numerous positions. He volunteered during a year with the United Nations on international environmental agreements. He was also involved with the Columbia Center on Sustainable Investment where he cultivated his interest in international investment law and its current challenges, specifically corruption, global health, and climate change. Maxime was also a Legal Analyst with a startup, Optimalex, for more than two years where he was developing a litigation optimization tool in diverse fields of the law, such as international contracts, insurance, and arbitration.
Maxime was a musician for more than fifteen years but had to stop because of complaints from his neighbors. In his spare time, he enjoys spending far too many hours staring at modern art in museums.