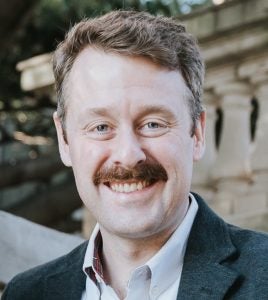 Steve is a fourth-year evening student pursuing a joint J.D./LL.M. in National Security Law with a certificate in WTO and International Trade Studies. He is particularly interested in issues at the intersection of trade and national security.
During his time at Georgetown, Steve interned with the Department of Justice's Public Integrity Section and the Federal Programs Branch, served as an executive editor for the American Criminal Law Review, and was vice president of the Military Law Society. In March 2021, he represented the Law Center as a Cutler Fellow with the Salzburg Global Seminar, where he presented a paper about the effect of subsidies on illegal, unreported, and unregulated fishing.
Prior to law school, Steve served as a lieutenant commander in naval intelligence and completed tours in Japan, Bahrain, and Afghanistan. These experiences shaped his specific interests in export controls, sanctions, and the impact of trade on post-conflict development. Before joining the navy, Steve taught high school Latin and English literature at an international school in Lugano, Switzerland.
Steve holds a bachelor's degree from Williams College where he double majored in political science and classical languages. He also received a master's degree in Middle Eastern and Central Asian security studies from the University of St Andrews in Scotland. He lives in Washington, DC with his wife and golden retriever. After graduation, he will join the Washington, DC office of an international law firm as an associate in their CFIUS, national security, and international trade group.