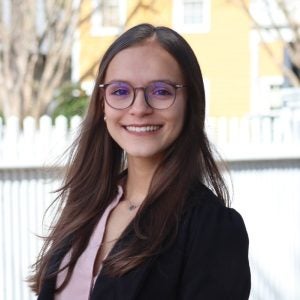 As a Program Associate to the IIEL, Mariana Negreiros Mariano works closely with the Institute's Director and Associate Director to ensure smooth sailing for events, while also liaising across departments to support the department's financial affairs and programming, to engage followers through the Center on Inclusive Trade and Development social media accounts, and to implement website redesign.
Ms. Mariano's experiences include conducting an honors thesis project titled "An Economic Impact Analysis for an Aviation Program at The University of West Florida"; participating in a research project "Brazil's Changing Foreign Policy Ambitions: Lula, Bolsonaro and Grand Strategy Analysis in the Global South," and volunteering as an English mentor with a Brazilian social initiative that opens doors for low-income youth, Soul Bilingue. She has spent time involved in research, gaining work experience on her University campus as a tour guide and as a program assistant for the recreation department, and volunteering as a mentor to help low-income students in Brazil to learn English.
Prior to Ms. Mariano's role with the Institute, she became interested in International Development while working as an economics research assistant at the University of West Florida Haas Center and studying both International Studies and Economics. At the Haas Center, she used economic modeling applications such as EMSI and IMPLAN to study economic development, while also managing the center's social media.
Ms. Mariano's research interests include international development, political economy, and gender equality. She holds a B.A. in International Studies and Economics from the University of West Florida. She plans on pursuing a Master's Program in International Development Policy.