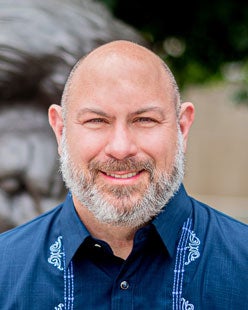 With more than 25 years' experience in local, state, and federal law enforcement, Brett Parson is an internationally recognized leader, who created groundbreaking programs that are recognized as models for other departments across the country and around the world. Brett led the Gay and Lesbian Liaison Unit (GLLU), which received the Harvard University's Kennedy School of Government Innovations in Government Award and then worked with department leadership to expand that approach to form the Special Liaison Branch (SLB), whose mission is to improve police service to a wide range of underserved communities: African, Asian, deaf and hard of hearing, faith-based, Latino, and LGBTQ+. He also helped develop and supervised MPD's Family Support Team (FST), which responds any time an active-duty or retired sworn or civilian member of the department becomes critically injured or ill, or dies (both line-of-duty and non-duty related).
Parson's leadership roles have taken him across almost all aspects of MPD, working in vice, narcotics, gun recovery, alcohol-related crimes, bias-related (hate) crimes, domestic violence, violent crimes (sexual abuse and homicides), and supervising the city's elite Narcotics Strike Force. As a result of this work, Brett is called upon to teach and consult for police departments, governments and NGOs everywhere, to include the U.S. Departments of State, Justice, Defense, Interior, Labor, Veterans Affairs, Transportation, Homeland Security, and Agriculture, as well as every branch of the United States Armed Services. Outside of the United States, Brett has taught or consulted for the United Nations, the Organization for Security and Cooperation in Europe, and INTERPOL. This work has allowed him to teach, consult, and speak to agencies and leaders in Australia, Canada, Czech Republic/Slovakia (Czechoslovakia), England, France, Germany, India, Ireland, Israel, Mauritius, Mexico, Morocco, Netherlands, Northern Ireland, Norway, Philippines, Scotland, Switzerland, Vietnam, and Wales. Some of his prior clients include the U.S. Holocaust Museum and Memorial, Anti-Defamation League, National Law Enforcement Officers' Memorial and Museum, Southern Poverty Law Center, National Anti-Violence Coalition, Human Rights Campaign, Amnesty International and more.
In February 2020, Brett retired from full-time, paid employment with MPD, but he remains with the agency as a Reserve Officer (Part-Time). Brett also works with organizations whose missions he believes are essential to improving Policing and society. In addition to ABLE, Brett works for/with the following: The Matthew Shepard Foundation, The Federal Bureau of Investigation's National Academy, Concerns of Police Survivors, Shomrim Society, United States Department of Justice Civil Rights Division, Out to Protect International, International Association of Campus Law Enforcement, United States Department of Justice – Community Relations Service (CRS), and the International City Manager Association.
Brett received his B.A. in Criminal Justice and Spanish from the University of Maryland at College Park, where he also pursued his M.A. in Criminal Justice and Counseling. He resides, with his life-partner, Christopher Grasso (a professional Jazz musician), in Washington, D.C. and Provincetown, MA. In his spare time he enjoys traveling and playing ice hockey.