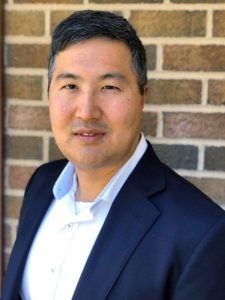 Dr. Wayne Chung is the Chief Technology Officer for BlueVoyant and is responsible for the engineering and internet scale analytics for all business units.  Dr. Chung also serves as a technical Amicus Curiae for the Foreign Intelligence Surveillance Court. Prior to BlueVoyant, Dr. Chung served as the Chief Technology Officer for the Federal Bureau of Investigation and Innovator-In-Residence at the National Security Agency's Cybersecurity and Computer Network Operations Mission.
At BlueVoyant, Dr. Chung leads the global engineering workforce providing a Security-as-a-service platform providing advanced cyber threat intelligence, supply chain cyber risk solutions, managed security services, and proactive professional services with forensic capabilities for incident response and remediation. Additionally Dr. Chung works closely with the analytics group helping to develop and scale advanced cyberthreat analytics to operate at Internet scale.
As the CTO for the FBI Dr. Chung led the scientific working group for Artificial Intelligence, shaping the rapid, responsible, and appropriate use policies for Artificial Intelligence and Machine learning for public safety. Additionally Dr. Chung worked to advance commercial cloud adoption and enterprise technology and cybersecurity modernization efforts. At NSA's research institute, Dr. Chung previously worked as a technical lead and senior researcher in the information assurance and intelligence missions. His past work includes development of collections, high-speed processing, cloud and streaming analytics, and vulnerability analysis in hardware and software.
Dr. Chung has a PhD, MS, and BE from Thayer School of Engineering at Dartmouth College, Hanover, New Hampshire as well as an AB in Physics from Bowdoin College, Brunswick, Maine. He has served as an adjunct instructor at the National Security Agency's National Cryptologic School teaching classes on network analysis and computer network operations. Dr. Chung has also received a National Intelligence Meritorious Unit Citation for his contributions to cybersecurity.