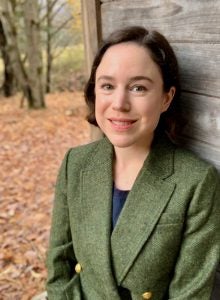 Mara Redlich Revkin is a Fellow at Georgetown's Center on National Security and the Law where she conducts empirical research on legal systems in conflict-affected societies. Her research and teaching interests include criminal law and procedure, international law, human rights, transitional justice, and military justice.
She holds a J.D. from Yale Law School and a Ph.D. in Political Science from Yale University, where her dissertation examined civilian experiences with the Islamic State's systems of governance, social control, and punishment in Iraq and Syria.
She has conducted fieldwork in Iraq, Egypt, Turkey, Lebanon, and Oman using qualitative and quantitative research methods including door-to-door household surveys, interviews, and building original event datasets based on newspapers and social media posts.
She also works with international and humanitarian organizations on the development of evidence-based strategies to strengthen rule of law and state legitimacy, support peaceful reconciliation after conflict, and mitigate the root causes of political violence and extremism.
She has served as the lead researcher on Iraq and Syria for United Nations University, the research wing of the United Nations system, for projects on the recruitment of children by armed groups and prospects for transitional justice after the Islamic State. She has also conducted research with the International Organization for Migration on perceptions of police in Iraq and with the United Nations Development Programme on pathways for return and reintegration of families perceived as affiliated with the Islamic State.
Her work has been published or is forthcoming in The Journal of Politics, The Journal of Conflict Resolution, The Journal of Global Security Studies, World Development, The Annual Review of Law and Social Science, Foreign Affairs, The Harvard National Security Journal, Middle East Law and Governance, Arab Law Quarterly, The Journal of Islamic and Near Eastern Law, and The Oxford Handbook of Islamic Law. Her research has been funded by the U.S. Institute of Peace, Innovations for Poverty Action, the Folke Bernadotte Academy, United Nations University, the Program on Governance and Local Development, the American Political Science Association, and the Project on Middle East Political Science, among others.
Before entering academia, she was a Junior Fellow at the Carnegie Endowment for International Peace (Middle East Program), a Critical Language Scholar in Jordan, and a Fulbright Fellow in Oman. She holds a B.A. in Political Science and Arabic from Swarthmore College. Publications and working papers are available on her website at https://www.mararevkin.com/.