$10 Million Gift from Bruce (L'80) and Ann Blume Creates Blume Public Leadership Institute at Georgetown Law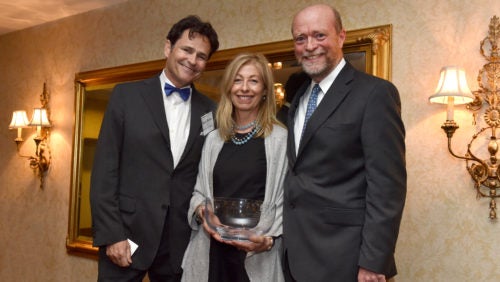 Bruce (L'80) and Ann Blume (Parents '08, '20), have given $10 million to establish the Blume Public Leadership Institute at Georgetown University Law Center. The gift represents the largest one-time commitment in the history of Georgetown Law.
Through the Blume Institute, students exhibiting exceptional promise as future public leaders will receive full-tuition scholarships as Blume Scholars. They will engage in traditional and experiential legal studies, while training for lives of service as public officials, policy makers, thought leaders, entrepreneurs and visionaries.
A 1980 graduate of Georgetown Law, Bruce Blume serves on the law school's Board of Visitors and the Georgetown University Board of Directors.
"Ann and I are so honored to be part of the Georgetown Law community. It is such an important global institution, and it is very exciting to be connected to it," said Bruce Blume. "For Ann and me, the concept of providing scholarships in perpetuity to the top students in the country in public leadership speaks to what we both believe in, our mission in life, and to Georgetown's ethos of service to others. With its location in Washington, D.C., there is no reason why this institute will not become the world's preeminent public leadership law program."
Georgetown Law has substantially expanded its experiential programming and financial aid for students under the tenure of Dean William M. Treanor.
"Ann and Bruce's extraordinary vision and transformational generosity are truly inspiring," Treanor said. "By enabling Georgetown to attract and educate the next generation of public interest leaders, the Blume Institute aligns perfectly with our Jesuit tradition of service."
"In years to come, I fully expect to see Blume Scholars emerge as leaders in all branches of federal and state government, as well as at major nonprofits, NGOs, and in the business sector," Treanor continued.
Bruce Blume is founder and Chairman of Blume Company Real Estate, a development firm that has helped transform Seattle's skyline. Previously he worked as an attorney, a clerk for U.S. District Court Chief Judge Walter T. McGovern and as a legislative aide to U.S. Sen. Warren G. Magnuson. He serves on the boards of the Seattle Art Museum and the University of Washington Foundation.
Ann Blume is a community leader in Seattle. A graduate of Cornell University, she is a former staff assistant to U.S. Sen. Bob Packwood of Oregon and U.S. Sen. Slade Gorton of Washington. She serves on Seattle University's Board of Trustees and College of Arts and Sciences Leadership Council, as well as the Cornell University College of Human Ecology Advisory Council.
Together, the Blumes founded the Bruce and Ann Blume Fund, supporting public health, educational, and environmental endeavors. The parents of five children, they share a passion for family, public policy, and philanthropy.