Voices: Gary Thorne (LL.M.'76)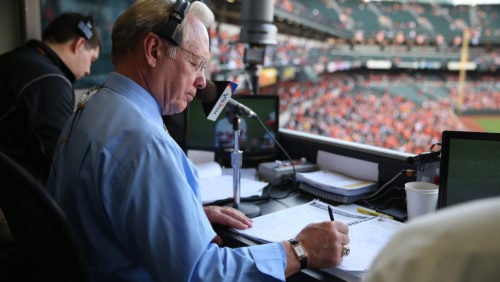 Most people know the unmistakable, occasionally booming voice of Gary Thorne (LL.M.'76) from his half-century long career in sports broadcasting.
Thorne's journey began in his hometown of Old Town, Me., listening to radio shows with his grandmother — an early step toward his employment in high school with a local station.
The radio work continued as he attended the University of Maine on a four-year ROTC scholarship and earned his degree in business in 1970. He then spent the next three years at the school earning a law degree before moving to the nation's capital to start work on an LL.M. from Georgetown Law.
To fulfill his ROTC commitment, Thorne served four years in the Judge Advocate General's (JAG) Corps, working on criminal appellate cases with the intention to move into Labor Law. He also became a member of the Supreme Court Bar, through the office of then Justice Thomas Clark.
Thorne's radio career also continued, as he spent weekends working in Washington as an announcer at WTOP. His memories of Georgetown Law and his D.C. days are fond.
"The beauty of Georgetown," he said, "is that you are taught by professors who are leaders in their fields. I had one professor who taught National Labor Relations Board procedure, and two others who were counsel for the Joint Committee of the Employee Retirement Income Security Act.
"These were people who wrote, made and practiced the law," he said. "You heard, first hand, what it was about. They brought a unique perspective to class."
Behind the mic
Upon graduating from Georgetown, Thorne returned to Maine and became assistant district attorney in Penobscot County ― among other things. He served as the first voice of the University of Maine hockey program. He met then-Providence head coach and future Hockey Hall of Famer Lou Lamoriello, who hired Thorne to call games for the NHL's New Jersey Devils.
Thorne has now broadcast baseball for 33 years, including 12 World Series, 17 MLB All-Star Games and four World Baseball Classics; and 18 years of NHL hockey, including numerous Stanley Cup Finals. And his résumé is punctuated by the numerous intriguing footnotes. He was once the co-owner of the Maine Guides minor league baseball team, did broadcasting for ABC Sports during the 1989 World Series "earthquake" game, served eight years as master of ceremonies at the National Baseball Hall of Fame induction, called the Little League World Series, served as head announcer on baseball and hockey video games and narrated World Wrestling Entertainment's WrestleMania Rewind. And that's not all.
Today Thorne, a five-time Emmy award winner who is in his 12th season with the Orioles, calls the play-by-play on about 120 games each season — with former Orioles Jim Palmer and Mike Bordick. Thorne loves working at one of baseball's grand ballparks, Oriole Park at Camden Yards, which offers broadcasters one of the best up-close vantage points in the game.
Watching intently
Away from work, he's a voracious reader ― he even presents a book blog on masnsports.com ― though surprisingly, he's expressed little interest in writing a memoir. And while he has no plans to return to broadcasting hockey on a consistent basis, he's always watching. Intently.
At 70, Thorne continues with the Orioles on Mid-Atlantic Sports Network, where his engaging style is often punctuated by his familiar exclamations of "Goodbye, home run," as well as "Mercy" for an especially great play. His trademark sign-off is "Adieu, adieu" after an Orioles win and simply "Adieu" following a loss.
While he admits to being tired of the traveling his career has required, he makes the best of it by exploring the cities he visits, investigating culinary attractions, and taking in a museum, a symphony or a play. When traveling, he looks forward to returning to the summer splendors of his beloved home state during his breaks in the season ― and looking forward to learning everything he can the next day.