Center on Poverty and Inequality Leadership
Professor Peter Edelman, Faculty Director
Peter Edelman is the Carmack Waterhouse Professor of Law and Public Policy at Georgetown University Law Center, where he teaches constitutional law and poverty law and is Faculty Director of the Georgetown Center on Poverty and Inequality. On the faculty since 1982, he has also served in all three branches of government. During President Clinton's first term he was Counselor to HHS Secretary Donna Shalala and then Assistant Secretary for Planning and Evaluation.
Professor Edelman has been Associate Dean of the Law Center, Director of the New York State Division for Youth, and Vice President of the University of Massachusetts. He was a Legislative Assistant to Senator Robert F. Kennedy and Issues Director for Senator Edward Kennedy's 1980 Presidential campaign. Prior to working for RFK, he clerked for Supreme Court Justice Arthur J. Goldberg and before that for Judge Henry J. Friendly on the U.S. Court of Appeals. He also served as Special Assistant to U.S. Assistant Attorney General John Douglas, and was a partner in the law firm of Foley & Lardner.
Mr. Edelman's newest book is So Rich, So Poor: Why It's So Hard to End Poverty in America, published by The New Press. A previous book, Searching for America's Heart: RFK and the Renewal of Hope, is available in paperback from the Georgetown University Press. His article in the Atlantic Monthly, entitled "The Worst Thing Bill Clinton Has Done," received the Harry Chapin Media Award.
Professor Edelman has chaired and been a board member of numerous organizations and foundations. He is currently chair of the District of Columbia Access to Justice Commission and board chair of the National Center for Youth Law.

Rebecca Epstein, Executive Director
Rebecca Epstein is the Executive Director of the Georgetown Law Center on Poverty and Inequality. She has over 20 years' experience in litigation and policy development, and she has maintained a special focus on race and sex discrimination and the policies and practices that support marginalized girls. Rebecca was the lead author of Blueprint: A Multidisciplinary Approach to the Sex Trafficking of Girls (2013) and co-author of The Sexual Abuse to Prison Pipeline: The Girls' Story (2015), both published by the Center on Poverty and Inequality. She serves as the Associate Director of the National Girls Initiative, a program run by the USDOJ's Office of Juvenile Justice and Delinquency Programs, and is a member of the Steering Committee of the Girls @ the Margin National Alliance and the Advisory Board of The Art of Yoga Project.
Previously, Rebecca served as a senior trial attorney in the Civil Rights Division of the U.S. Department of Justice, and worked as a staff attorney at Public Justice, a national public interest law firm in Washington DC. She also served as Policy Counsel at the National Partnership on Women and Families through a fellowship awarded by the Women's Law and Public Policy Fellowship Program at Georgetown Law.
Rebecca received her B.A. in history with honors from Brown University and her J.D. from New York University School of Law. She clerked for the Honorable Raymond A. Jackson in the Eastern District of Virginia, and is a member of the District of Columbia, New York, and Supreme Court Bars.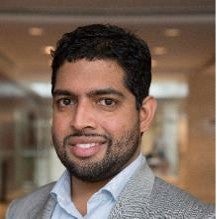 Indivar Dutta-Gupta, Co-Executive Director
Indivar Dutta-Gupta is Co-Executive Director at the Georgetown Center on Poverty and Inequality where he leads work to develop and advance ideas for reducing poverty and economic inequality in the U.S., with particular attention to gender and racial equity. Indivar also serves on the National Academy of Social Insurance's (NASI) board of directors and is a member of the Poverty, Employment and Self-Sufficiency Network, funded by the U.S. Department of Health and Human Services, as well as Canada's Ministerial Advisory Committee on Poverty Reduction.
Previously, Indivar was Project Director at Freedman Consulting, LLC, leading strategic initiatives for major philanthropies, children's groups, and workers' organizations. Indivar served as Senior Policy Advisor at the Center on Budget and Policy Priorities, focusing on budget and tax policies and cross-cutting low-income issues. Earlier, he focused on safety net, tax, and social insurance programs and policies as U.S. House of Representatives Ways and Means Committee Professional Staff.
As an Emerson National Hunger Fellow, Indivar worked for DC Hunger Solutions and the Center for American Progress. Indivar has been named a First Focus Campaign for Children Champion for Children and was awarded the Congressional Hunger Center Alumni Leadership Award (2016). He was named one of Washington Life magazine's most Influential 40-And-Under Leaders (2013) and Rising Stars 40 And Under (2016). Indivar is an honors graduate of the University of Chicago and a Harry S. Truman Scholar.
Initiative on Gender Justice & Opportunity Staff

Becca Shopiro, Director of Administration
Becca Shopiro manages the operational tasks of the Center's Initiative on Gender Justice & Opportunity, which includes overseeing the Initiative's budget and analyzing financial data; developing strategic initiatives; guiding communications and marketing; and creating operating procedures and policies. During her four years working at the Georgetown Law Center, Becca earned her MBA through Georgetown University McDonough School of Business.
Prior to joining the Georgetown University Law Center, Ms. Shopiro was an environmental consultant with Eastern Research Group (ERG) and ICF,where she supported a variety of federal agencies, including the U.S. Environmental Protection Agency and the U.S. Department of Energy, on topics from energy and environment to safety and health. She is a 2012 graduate of Bucknell University.
Dr. Jamilia Blake, Senior Scholar
Dr. Jamilia Blake is an Associate Professor in Educational Psychology at Texas A&M University. Dr. Blake's research examines the developmental trajectory of peer-directed aggression bullying, and victimization in socially marginalized youth and racial/ethnic disparities in school discipline. Dr. Blake has published studies examining the social and psychological consequences of aggression and victimization for African-American girls and students with disabilities and the disparate impact of school discipline for African-American girls. She is author to more than 40 publications.   Her work on the inequitable discipline experiences of Black girls has been featured in the New York Times, Huffington Post, on NPR, and CBS.  She is the co-PI of a federally funded grant to examine the relation between school discipline and disproportionate minority contact in juvenile justice centers for immigrant youth. Dr. Blake is the co-editor of the American Psychological Association book, Psychological Assessment and Intervention for Ethnic Minority Children, and is the lead researcher for the Center's report, Girlhood Interrupted: The Erasure of Black Girls' Childhood.  In her role as a Senior Scholar at the Center, Dr. Blake is continuing to explore the perception of Black girls' innocence and stereotype-based experiences.
Professor Thalia Gonzalez, Senior Scholar
Thalia González is an Associate Professor in the Politics Department and Anderson Center of Public Policy at Occidental College. She is a nationally recognized expert in restorative justice with more than a decade of experience in law and policy. Thalia's work centers on intersectional issues of civil rights, the school-to-prison pipeline, race and inequality, and juvenile justice. On these topics, she conducts research, publishes articles and reports, and provides guidance to policymakers, educators, lawyers, and advocates at the local and national level. She has published in leading journals including the New York University Review of Law & Social Change, Howard Law Journal, Cardozo Journal of Conflict Resolution, Fordham Urban Law Journal, Ecology Law Quarterly, and the Journal of Law and Education. She is a frequent expert speaker at conferences and commentator on legal issues and educational and juvenile justice policy, and her work on restorative justice has been featured on NPR, in the Atlantic, the Washington Post, and Huffington Post. In her role at the Center, Thalia leads the Center's research in restorative justice outcomes, implementation, practice, and policy.
Dr. Kimberlyn Leary, Senior Scholar
Dr. Kimberlyn Leary is an associate professor of psychology at Harvard Medical School and an associate professor in the department of health policy and management at the Harvard T.H. Chan School of Public Health, where she is the "Enabling Change" program director. Leary is also the executive director of policy outreach at McLean/Harvard Medical School and a fellow New America's International Security Program. As a Robert Wood Johnson health policy fellow, she served as an advisor to the White House Council on Women and Girls for one year, developing the "Advancing Equity" initiative, which focused on improving life outcomes for women and girls of color, and for an additional six months, as an advisor to White House Office of Management and Budget's Health Division.
Nikola Nable-Juris, Women's Law & Public Policy Fellow
Nikola Nable-Juris is the Georgetown Women's Law and Public Policy Fellow at the Initiative on Gender Justice and Opportunity. She previously served as the Senior Policy Counsel at the Campaign for the Fair Sentencing of Youth, leading legislative campaigns across the country to ban life-without-parole sentences for children under 18. She began her career working with pregnant and parenting youth and survivors of domestic violence and sexual assault.
Nikola received her B.A. in Cognitive Science and Psychology from the University of Virginia and her J.D. from the University of Maryland School of Law. She clerked for the Honorable Alan Kay in the U.S. District Court for the District of Columbia and the Honorable Beth Gesner in the U.S. District Court for the District of Maryland. She is a member of the District of Columbia, Maryland, and Virginia Bars.