Dhriti Gupta
Dhriti Gupta serves as Policy Assistant at the Institute of Tech Law & Policy.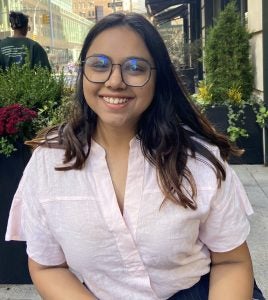 Dhriti is a student with the Communication, Culture and Technology program at Georgetown University where she is focusing on technology law and policy. Dhriti completed her undergraduate degree from University of Delhi, India with honors in Political Science honors and a minor in psychology. She worked with the Embassy of Spain in India and led initiatives like media campaigns, conferences and webinars to further India-Spain relations and concluded the journey by launching the India-Spain Youth Magazine as a platform for fostering youth voices across the nation. Afterwards, she was engaged as a Consultant with UNESCO South Asia Office and a Research Coordinator at Bournemouth University for the collaborative project "Sexual violence and the news media" and went on to work on key projects for the Government of Delhi, Ministry of Home Affairs, the United Nations, Red Cross International, amongst others.
As a Policy Assistant with the Institute of Tech Law & Policy she is working on bringing together the different technology policy stakeholders within the Georgetown ecosystem and deriving policy insights on the latest developments in the field. Additionally, she is also assisting Prof. Leticia Bode on research about online misinformation and working with the Georgetown Technology Policy Initiative.