Best Practices for High Quality Audio in Lecture Recordings
Follow these tips to ensure you always sound your best on the Panopto class recording system.
Project your voice. Speak as if you want to be heard by someone on the opposite end of the room.
Repeat students' questions before answering.
Use the clip-on mic whenever possible.
Consider your position in relation to the microphones in the classroom.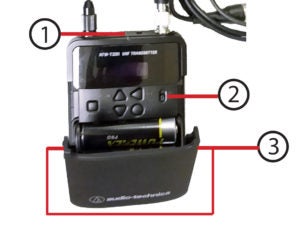 Clip-on Mic (Lavalier Mic)
This microphone provides the best intelligibility for the professor's voice. Every classroom has a clip-on mic placed near the PC along with rechargeable batteries. It should be clipped near your chest and pointed towards your face. The attached transmitter pack can be placed in a pocket, hitched on a belt, or carried.
(1) Mute/ Unmute Switch
(2) On / Off Switch (located under battery cover)
(3) Latches for opening battery cover An LED light will indicate that the device is on.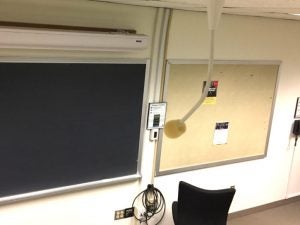 Professor Ceiling Mic
Every classroom is equipped with a forward-facing ceiling microphone. When possible, stand at the front of the room in the direction that the mic is facing.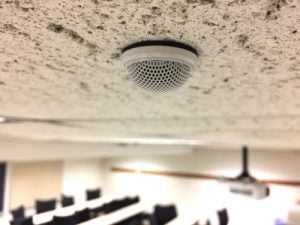 Student Ceiling Mics
There are smaller ceiling mics placed around each room to capture student questions, but they are not very effective unless the student speaks up and projects their voice. It helps to encourage your students to speak up if they are soft spoken. The best way to ensure student questions are heard is to repeat each question before answering.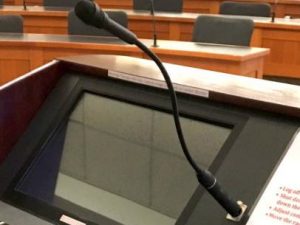 Lectern Mic
Standing in front of this microphone provides optimal sound quality, but requires the speaker to stand in place when presenting. These mics are built in to the lecterns of McD 200, McD 206, McD 207, Hotung1000, Hotung 2000, and Hotung 2001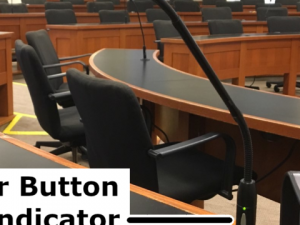 McD 200 Student Mics
If your class is in McDonough 200, students can speak into the microphones at their desks. Each desk mic in McD 200 has a grey power button at its base and an green light to indicate that it is on. Please make sure the microphone is then turned off after speaking to prevent recording excessive background noise such as typing or shuffling papers.