PARKING AND TRANSPORTATION
Disability Parking
Students, faculty, and staff with a valid annual decal and state-issued disability permit who require handicapped parking spaces may request assignment to a specific parking space by visiting the Parking & Transportation Office. Visitors are also encouraged to call the Parking & Transportation Office at 202-662-9330 for assistance.
Georgetown University Transportation Shuttles
Georgetown University Transportation Shuttles (GUTS) buses are ADA accessible and equipped with wheelchair lifts. Contracted buses may not be accessible. Please contact the Georgetown University Office of Transportation Management to ensure any accessibility requirements are met.
Loop and Specialty Shopping Shuttle
The Law Center provides local shuttle service from August to the following May. Shuttle service does not operate during the summer months. Information about the shuttles can be found on the Public Safety Transportation Shuttle page.
If you need a wheelchair accessible shuttle or have any questions, please contact the Department of Public Safety at 202-662-9325.
LIBRARY ASSISTIVE TECHNOLOGY
The E.B. Williams Law Library is fully accessible to visitors and students with disabilities. Patrons should visit the library's website for information on access and general assistance. Additionally, the Law Library has arranged for all Georgetown Law students to have unlimited access to AudioCaseFile's collection of digitally recorded court decisions. This collection includes MP3 format recordings of cases in many law school casebooks.
In Williams Library, Room 506, there is an assistive technology workstation equipped with JAWS, Kurzweil, Dragon Naturally Speaking and a flatbed scanner. Students can reserve Room 506 using the Group Study Room portal.
WEBSITE ACCESS
Georgetown University Law Center is committed to providing accessible websites and web-based applications to students, staff, faculty and participants in the University's programs and activities. If you are having difficulty accessing content or using features on any Georgetown University website, please request website accessibility help here.
ACCESSIBLE & GENDER-INCLUSIVE BATHROOMS
The locations of the Law Center's accessible and unisex bathrooms are available on the Accessible and Gender-Inclusive Bathrooms page.
PLANNING ACCESSIBLE EVENTS
Georgetown University Law Center remains committed to our longstanding practice of making our programs, services and activities inclusive and accessible to students, faculty, staff, and visitors with disabilities. The following resources should be consulted when designing inclusive environments and events:
ANIMALS ON CAMPUS
Animals are generally not permitted in University buildings with some exceptions, such as service animals, service animals in training, and assistance animals determined to be a reasonable accommodation by the Office of Disability Services, among others. The information below is intended to help students, employees, and visitors understand the difference between various kinds of animals, where they are permitted, and when they may be removed.
Georgetown Law Pet Policy (Coming Soon)
COMMENCEMENT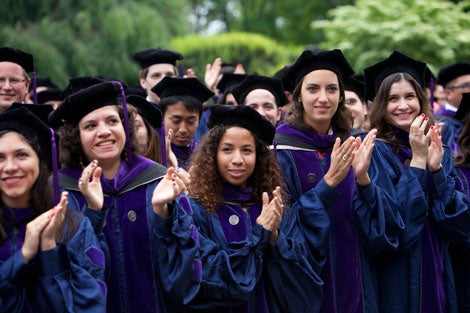 The Office of Special Events is dedicated to making Law Center Commencement activities accessible and inclusive to both students and guests. Accommodation request from students should be directed to the Office of Disability Services and accommodation requests from guests should be directed to the Office of Special Events at by the last week of April. Additional information about commencement can be found on the Commencement page.