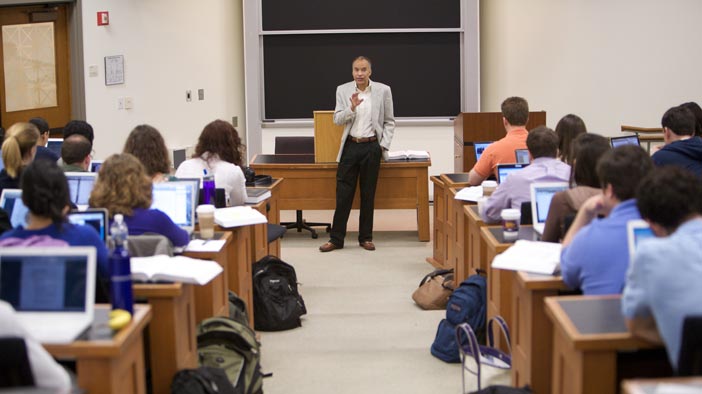 Information for Faculty
In compliance with federal law, the Law Center provides reasonable accommodations to students with disabilities who present appropriate documentation and register with the Office of Disability Services (ODS). All accommodations and services provided on the basis of disability must be provided by or in consultation with the Office of Disability Services to establish consistency of practice and  ensure that services and accommodations are properly documented.
Professors often are not notified if students with disabilities are enrolled in their course. In instances where it is necessary to inform a professor, the student will be consulted by ODS first and the minimum amount of information will be disclosed in order to identify and/or implement a reasonable accommodation. The Office of Disability Services is available to discuss questions about Law Center policies and services and to consult with faculty on disability-related issues.
Syllabus Statement
Including an accommodations statement in your syllabus is a simple way to make enrolled students with disabilities feel included and welcome in your course. Use a syllabus statement to inform students with disabilities about the process for requesting disability-related accommodations. Please include the following:
"If you require an accommodation to fully access this course, please email the Office of Disability Services (ODS). If you want to learn more about their services, email the Office of Disability Services or visit the ODS website." 
Accessibility Resources
What is accessibility?
Accessibility for Web Design
Universal Design for Learning
Tips for Creating Accessible Documents
Faculty/Staff Accommodations
Georgetown University's Office of Institutional, Diversity, Equity, and Affirmative Action (IDEAA) is responsible for coordinating the University's response to various accommodation requests in accordance with federal and District of Columbia laws, as well as University policies. IDEAA provides accommodation assistance to applicants for employment and current employees, including staff, AAPs, faculty, and student employees. Please read the Procedures for Employees on the IDEAA webpage for more information.